Feb
13
Syttende Mai 2021
Norwegian Embassy Video
Calgary Consulate Video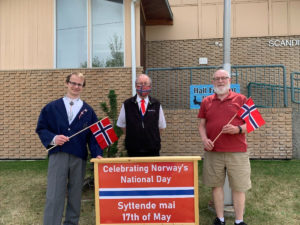 Food Bank Support
In celebration of Sons of Norway's founding 125 years ago, Valhalla lodge participated in the District IV campaign to "Can Hunger." Lodge members were challenged to donate 125 pounds or items of food. Success! The Calgary Food Bank received 127 pounds of food, a lodge donation of $125, and generous cash donations from individuals. Out-of-town food banks benefited as well.
Regular lodge meetings:
The next regular meeting will either be on September 11th (10 a.m. at the Scandinavian Centre) or 13th (7:30 p.m. via Zoom). Please check back here for updates. Contact secretary@sofncalgary.ca to be included in invitations to Zoom meetings and events.
Syttende Mai celebrations 2020
Eighteen people contributed a total of over 40 e-mails, photos, and videos about Syttende Mai. The 2020 Syttende Mai dropbox file features celebrations in Norway, raising the flag at the Scan Centre, beautifully set tables, and much more. Here is the link.
Three winners were drawn from the 18 names:
1. Osa Hamarsnes, a one-year Sons of Norway membership
2. Audny Dypvik, UFFDA cookie stamp and S/N notepad, pen, keychain
3. Chris Mylde, rosemaled greeting cards, S/N notepad, pen, keychain
Thank you to all the participants!
Covid virus updates:
Zone 4 Sports Weekend – Cancelled for 2021.
The Scan Centre is currently closed.
Trollhaugen Camp hoping to run this year. The theme for 2021 is Sports in Norway. See the News page for more info.
---
---
2020 Conventions postponed
The International Board, through its interim authority granted by the International Lodge, voted to postpone all 2020 District Lodge meetings until 2022. These postponements serve to continue the 2018-2020 biennium into the year 2022. It is expected that all district and international delegates and those installed in leadership positions for the 2018-2020 biennium will continue in service until the regular session lodge meetings of 2022.
*******************************
Some past activities:
Calgary European Film Festival (CEFF)
November
The Festival grows with each successive year, with 22 nations being represented in 2019 when the films were screened at the Globe Theatre. In 2020 all films were shown virtually. This added great flexibility to viewing times and the convenience of watching from home.
Sarah Granskou presented a family-friendly performance with music, story-telling, and interactive puppetry based in Scandinavian tradition at the Scan Centre on August 25th, 2019. Her husband accompanied the stories with his Setesdal-style fiddle, and their older son played jazz piano and sang harmony for one of Sarah's songs. A talented family! Our lodge sponsored this event.