Feb
13
Regular lodge meetings:
The next regular meeting is Saturday December 3rd, 10:00 a.m.
Thanks to those who participated in the lefse bee after the November meeting. It was an enjoyable and productive afternoon. The lefse sold quickly at the Scan Centre bazaar on November 13.
Ski for Light:
Registrations are still open for guides and blind or low-vision skiers. From Feb. 6-12, 2023, skiing and social events will take place at the newly renovated William Watson lodge in Kananaskis. Valhalla lodge members provide incoming participants with transportation to the Scandinavian Centre and lunch before the bus leaves at 4 p.m. for the lodge. Go to
https://skiforlight.ca/ for more information and online registration.
Scan Choir, Nordic Folkdance
The choir meets Wednesdays, and folkdancers on Thursdays.  New participants are welcome. Each group meets weekly from 7-9 p.m. For more details please e-mail awiigs@telus.net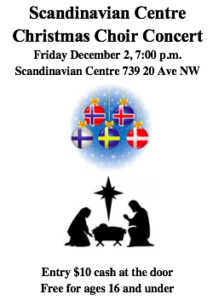 On Friday Dec. 2, start time 7 p.m., the adult choir and the youth choir will present a Christmas concert at the Scandinavian Centre, with refreshments afterwards. $10 at the door for adults. Youth 16 and under – no charge. Doors open at 6:30 p.m.
Syttende mai – Constitution Day
Thanks to the 2022 planning committee: John and Thordis Kamp, Dylan Viste, and Barb Olsen.
Did you miss out in 2022? Send your contact information to secretary@sofncalgary.ca so you can be notified about Syttende mai 2023.
Høstfest 2022 in Minot, ND
Barb reported on her Høstfest trip in the October Flygeblad newsletter. 
Calgary European Film Festival (CEFF)
November 5th-13th, 2022. A grand selection of films played at the Globe Theatre downtown. Several, including the Norwegian film, were also available for watching on-line. https://calgaryeuropeanfilmfestival.ca
This year's selection was "Hope" (Håp). Anja (Andrea Bræin Hovig) and Tomas (Stellan Skarsgård) adore their careers in dance and theatre. Their family structure is complicated, with two young sons and an adolescent daughter from their own union and two adult children from Tomas' marriage.  Then Anja's physician gives her a dire diagnosis: she has an inoperable tumour. 
Recommendations of recent Norwegian films to consider for 2023 are most welcome.