Feb
13
Regular lodge meetings:
Lodge meetings

–changeover to Saturday morning meetings
Saturday November 4th, 10 a.m. – made lefse for the Christmas Market (bazaar) after the meeting. Looking forward to a future lefse bee.
Saturday December 2nd, 10 a.m. – bring Christmas cookies for coffee, trading, selling…. Quilt raffle ticket holders are welcome to join us for coffee and cookies at noon when the draw will take place.
Norwegian tradition calls for seven kinds of cookies. Here are some ideas from sofn.com with links to recipes.
Sandkaker / Sandbakkelser
Fattigmann
Goro
Sirupsnipper
Berlinerkranser
Krumkakerhttps://northwildkitchen.com/smultringer/
Smultringer (this recipe is a vegan version– for the traditional version, see link above)
Serinakaker
Kransekake / Almond ring cake
Pepperkaker / Gingerbread cookies
Ongoing quilt raffle, draw at noon at December meeting. Value easily $400. Tickets $2 each. Additional prize of a smaller quilt, with all tickets eligible for both prizes. Proceeds will go to the Sons of Norway Foundation in Canada, which offers bursaries for post-secondary studies. More info at www.sonfic.ca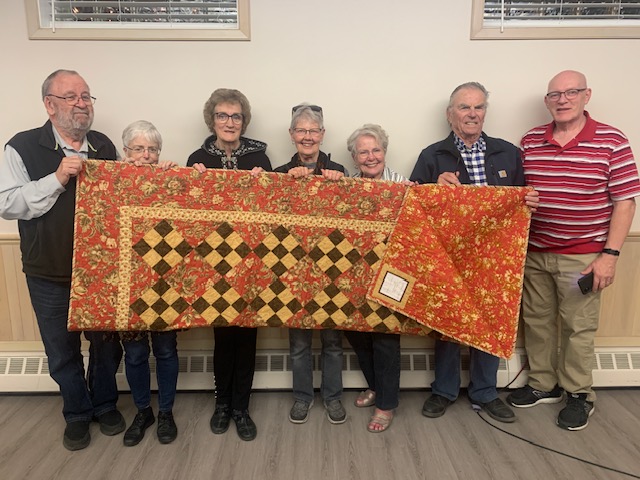 Norwegian-themed calendars for 2024 are available at $20 each. Come to the December meeting or e-mail secretary@sofncalgary.ca for calendars and quilt raffle tickets.
Laft Hus Craft and Bake Sale (Red Deer)
Nov. 25th, 9 am-4 pm and Nov. 26th, 12 pm-4 pm. Many Norwegian baked goodies, hand-made crafts, baking equipment and unique Norwegian gift items.
The Norwegian film sponsored by our lodge, Thomas vs. Thomas, had its North American debut at this year's festival. 
Recommendations of recent Norwegian films to consider for next year are most welcome. They should be award-winning and not available for streaming. 
Syttende mai, May 17th, in 2023
We celebrated at Highland Park Community Hall since a film crew was using the Scan Centre that week. The children enjoyed the playground there. Lots of volunteer effort enabled a picnic-style meal at low cost. After dinner Consul Chris Mylde spoke, and the Scan Choir and Nordic Folk dancers provided entertainment.
Edmonton's 110th anniversary: