Sep
13
"Things Norsk"
Link to interesting articles about crafts, culture, genealogy, history, humour, news, and travel.  If you would like to add to this collection, send your input to president@sofncalgary.ca or secretary@sofncalgary.ca
Trollhaugen Camp
Website  www.trollhaugenalberta.ca and on Facebook as Trollhaugen Language Arts and Culture Society.  The camp runs from Aug 7-13, 2022. Registration forms are available from the website or troll.registrar@gmail.com. Camp hasn't reached capacity yet, so registration is still possible – but do it soon!
Click here  for the June 2022 newsletter.
Located at Deer Valley Meadows near Alix, Alberta, this family camp provides a week of Norwegian language, history, crafts and culture for all ages. On the final day of camp, guests are welcome to view the crafts exhibit, have lunch and enjoy the wind-up program.
Newsletters
Double-click on the newsletter issue you wish to read and save the file to your computer. Flygeblad is Valhalla lodge's newsletter. SONFIC newsletters come from the Sons of Norway Foundation in Canada. Fabulous Fourth Footnotes (FFF), the newsletter for Alberta, Saskatchewan, Montana and North Dakota, is available here and at www.sofn-district4.com. Laft Hus is a Norwegian museum and culture centre in Red Deer.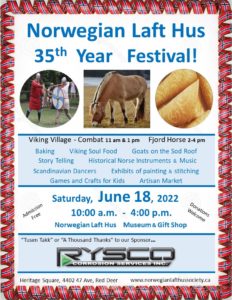 2021 – Lots of Norwegian cookie recipes
A keeper from 2020: Traditional Norwegian Christmas recipes, stories, and crafts